Cloud vs Home Backup - comparing the incomparable
If you are thinking about getting a backup for your computer you will first get yourself into a conundrum regarding which type of backup do you actually need?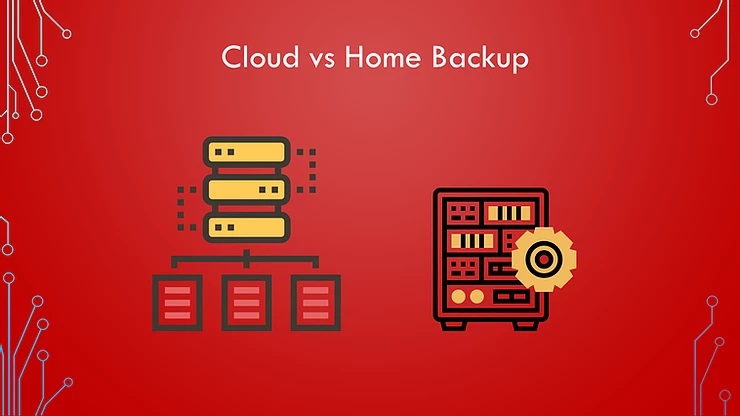 Introduction
Cloud and Home backup although similar in the name do not necessarily share the same characteristics, although being similar in principle. Therefore they might not even compete with each other, especially if you are concerned about your privacy. We will compare our Active@ Disk Image with current cloud storage offers on the market and try to find out what you are getting for your money's worth.
First, we have taken a look at the costs. For our investigation, we were looking at the storage capacity that can reach at least 5TB, although as you can see not all of them have managed to reach that mark. The following is the description of the contents of our comparison table:
Base price is the price in the segment that only applies to Disk Image since its initial cost is $39. Cost per year, on the other hand, applies to all of them. In the case of Active@ Disk Image Cost per year refers to (optional) Annual Support and Software Upgrades. One year of updates comes free when you purchase the software, while for other cloud storage providers it refers to their mandatory annual subscription.

Additional costs are only for Active@ Disk Image and it implies that you might need to buy a 5TB drive in case you don't have one already.

Storage capacity as a 5TB benchmark, as we mentioned, wasn't something all participants could meet.

Devices allowed  refers to a number of devices from which you can access to your backup. In the case of Active@ Disk Image, it is clear that the number is unlimited since you can plug in your 5TB backup HDD into any computer you want, while for the storage providers it refers to the numbers of devices from which you can access your data over the internet.

We also checked the Encryption used when backing up. Active@ Disk Image, iDrive, and Dropbox use 256-bit AES encryption on their servers, while Backblaze only 128-bit. From what we managed to gather OneDrive only uses an encrypted connection to the server but the files are not encrypted. Since all of the cloud storage is accessible via the internet it's clear that you can see your backed-up files from your mobile device. Therefore, such a feature does not exist with Active@ Disk Image.

When it comes to Requires Internet connection for backup recovery, we wanted to make a clear distinction between cloud and home backup. If your HDD fails and you do not have an internet connection this is where cloud backup is at a disadvantage since you won't be seeing your data until you get access online. Backblaze offers an option to send you your data (for a refundable fee) in a USB or HDD. However, it will probably take you at least a few days until you receive it.
The Comparison
| | Active@ Disk Image | One Drive* | iDrive | Backblaze | Dropbox |
| --- | --- | --- | --- | --- | --- |
| Base Price | $39 | $0 | $0 | $0 | $0 |
| Cost/Year | $10 (optional) | $24/$70/$190 | $75 | $60 | $200 |
| Additional costs | $110*** | $0 | $0 | $0 | $0 |
| Storage Capacity (GB) | 5000 | 100/1000/2000 | 5000 | Unlimited | 3000 |
| Encryption | 256-bit AES | 256-bit AES | 256-bit AES | 128-bit AES | 256-bit AES |
| Internet required for backup | — | ✔ | ✔ | ✔****** | ✔ |
| Online Access | — | ✔ | ✔ | ✔ | ✔ |
| Mobile Access | — | ✔ | ✔ | ✔ | ✔ |
| Devices allowed | Unlimited | 1 | Unlimited | 1 | Unlimited |
| 5-year costs | $189/$149**** | $120/$350/$950 | $375 | $300 | $1000 |
| 5-year backup costs/GB | $0.04/$0.03**** | $1.2/$0.35/$0.47 | $0.075 | $0.0…? | $0.33 |
* Disk Image already comes with one year of supported upgrades
** Optional yearly subscription for software upgrades
*** Average price of a 5TB HDD (actual size 5,000 GB)
**** Total costs without upgrades
***** OneDrive storage without MS Office/with MS Office/MS Office + expansion fee
****** For a fee ($90-$180) Backblaze can send you a drive with your backed-up data in case you cannot access them via the internet. Since the fee is refundable it is not included in the calculation.
Conclusion
Looking at the price per terabyte, Dropbox and OneDrive are the most expensive. Microsoft offers more storage with more expensive packages which include Office 365. However, if you are looking for online storage only we suggest that you look elsewhere. Out of all of the cloud solutions we listed, Backblaze showed as the best and most affordable one.
On the other hand, Active@ Disk Image provides you with more flexibility in case of the calamity and shows as the cheapest backup solution out of all of them. You will need around 10TB or more for Backblaze to start being as cost-effective as Disk Image. In the case of a calamity, it allows you to restore your backup in mere minutes whilst not requiring internet access. With Active@ Disk Image boot disk you can backup other devices without any limitations. However, unless you manually plug in your phone into the PC with Disk Image installed and back its contents, you won't be able to backup your photos otherwise like you might be able to do with cloud solutions.
That being said cloud solutions are good for backing-up holiday pictures, business-related projects and documents that require sharing, or personal content for short term usage. Home backup is there to provide long-term and stable no-matter-what-backup that you can use at any time of day. None of the types of back-ups are wrong, you can use them individually or combine them, it is just important to understand their use.
Software used in the article: