Active@ KillDisk Erase Certificates
For data sanitation professionals and users who like to keep track of their tasks, erase certificates and disk labels area must whether for reasons that are requested by their client or to keep records of the state of their storage devices. The industry leader in the field of data sanitation, Active@ KillDisk, offers a plethora of customization options before generating certificates and labels as well as the feature of emailing the sanitation documents free of charge.
For setting and customizing data sanitation certificates it is required that you go to Tools / Properties or press F2.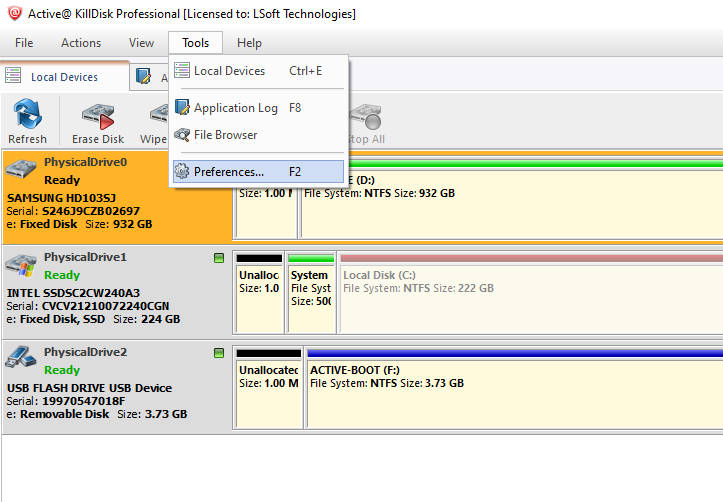 Erase certificate
The first feature that should be set is Erase Certificate which will set the foundation for your future customizations.
Use Erase Certificate is the first checkbox that needs to be checked to access other features such as
Include company information (information the company that performs data sanitation)
Include technician information (information of the technician that performs data sanitation)
Show KillDisk Logo (to showcase validity of data sanitation process)
System info, hardware info, and disk SMART info are logs that portray the information of the system and drives where the sanitation process is being performed.
If you want your certificates to always be printed, make sure that you check Always print certificates after disk erase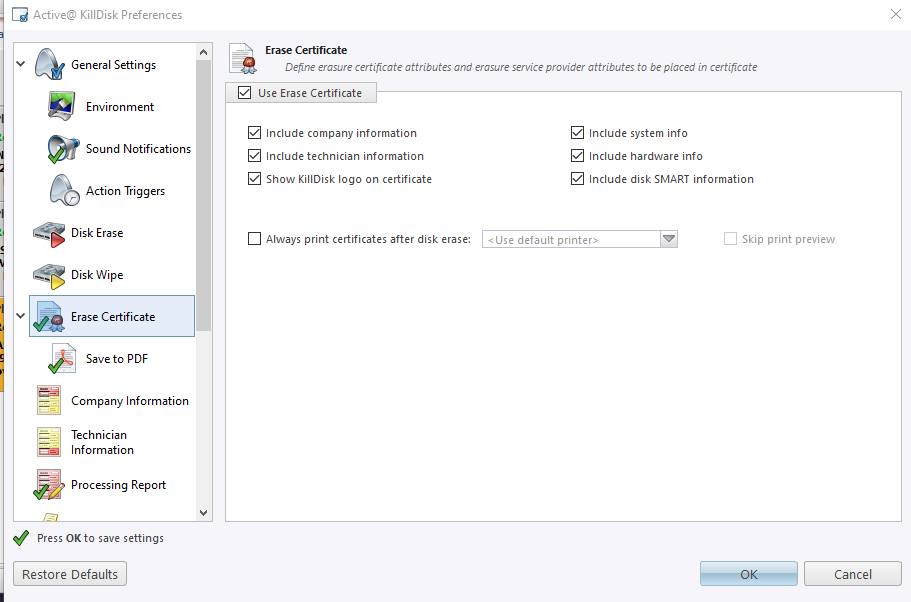 Save to PDF
Another mandatory preference that needs to be set is Save to PDF which will set the save location for the certificate as well as its name. By default, the certificate is set to contain a Serial number (of the drive), Status (of the data sanitation process), Date, and Time when the sanitation process has taken place.
Certificate can also be encrypted with a Password, while with Sign Certificate with Digital Signature you can lock the PDF from any possibilities of modifying it with PDF editors. The proof of digital signature can also be portrayed in the certificate itself, to do that check Display Digital Signature on the first page of the Certificate.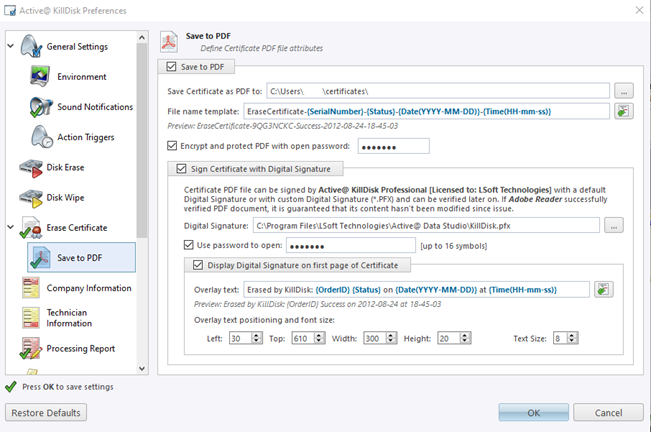 Company and technician information
To make the certificate more informative and authentic, company information can be added altogether with a logo, phone number, and location. A statement describing the sanitation process can also be added.
Active@ Disk Editor is an inspecting and editing tool that enables users to change the most fundamental properties of data and sectors. It is capable of viewing and changing any type of data on any file system.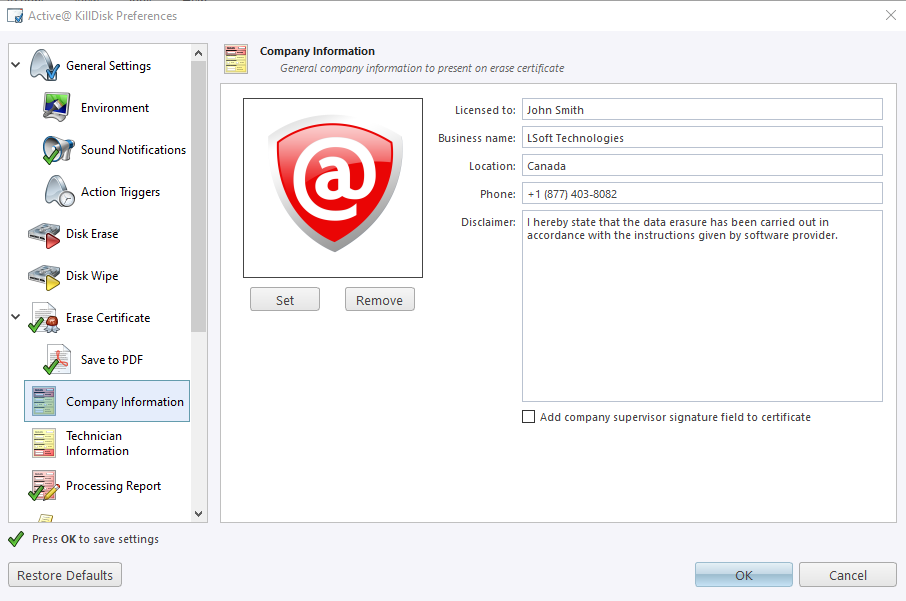 For companies that have multitudes of technicians dedicated to sanitizing data, it is useful to have the name of the person responsible for the erasure of the drive in question. Active@ KillDisk provides this option as well.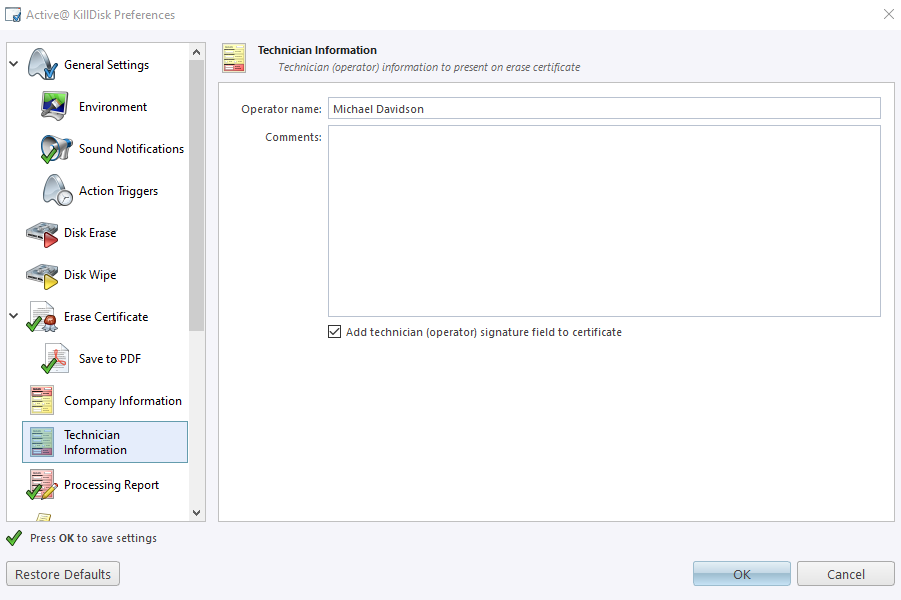 Email notifications
Once the drive sanitation has been finished and the certificate created it is possible to send it by e-mail. To do that check the Use E-Mail Notifications box and the required e-mail address. Optionally Report file in XML format and the Application log file can also be included.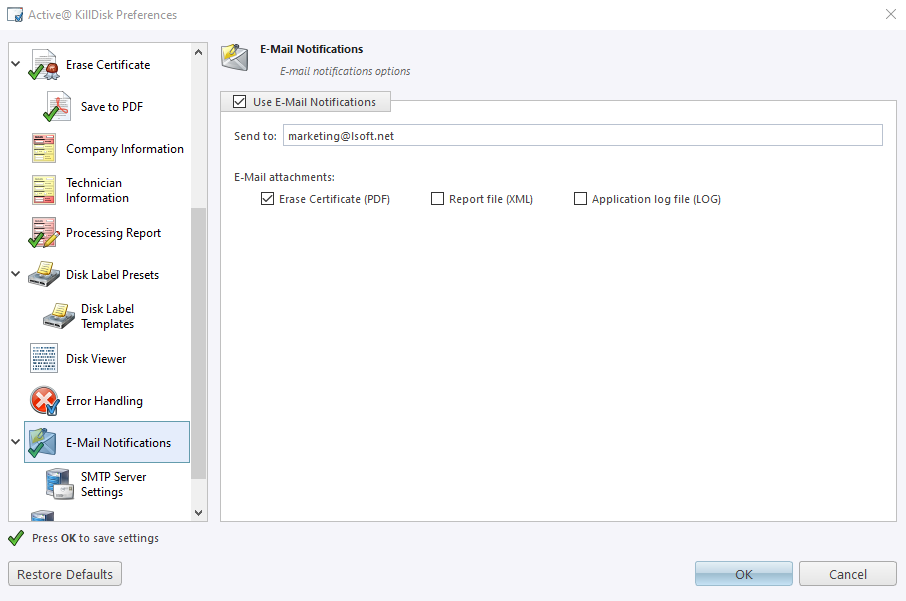 Further email customization can be done by adding your email as the sender. By default, Lsoft offers a free account for sending certificates. If you want to use your own account it is required to click on Custom Account and fill in the necessary fields.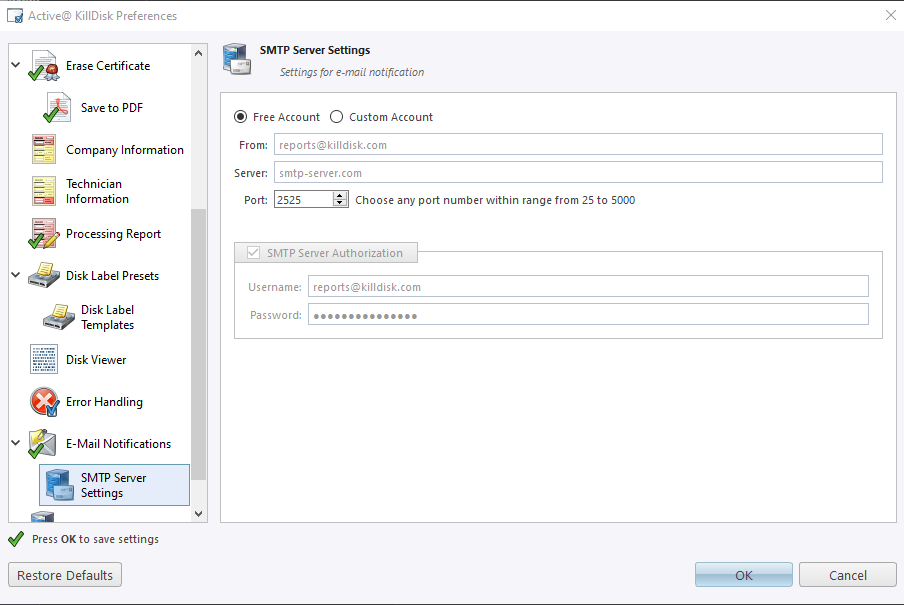 Disk Label Presets and Templates
Labeling your sanitized drives is also something that can be added to better keep track of them after the process is finished. Active@ KillDisk offers a large variety of templates in different sizes and designs making sure that all varieties of disk sizes are covered.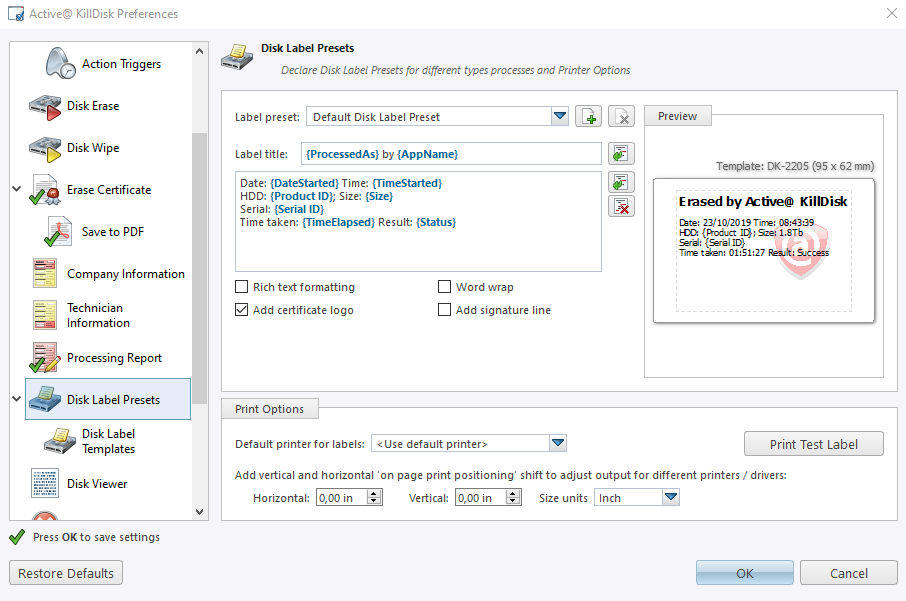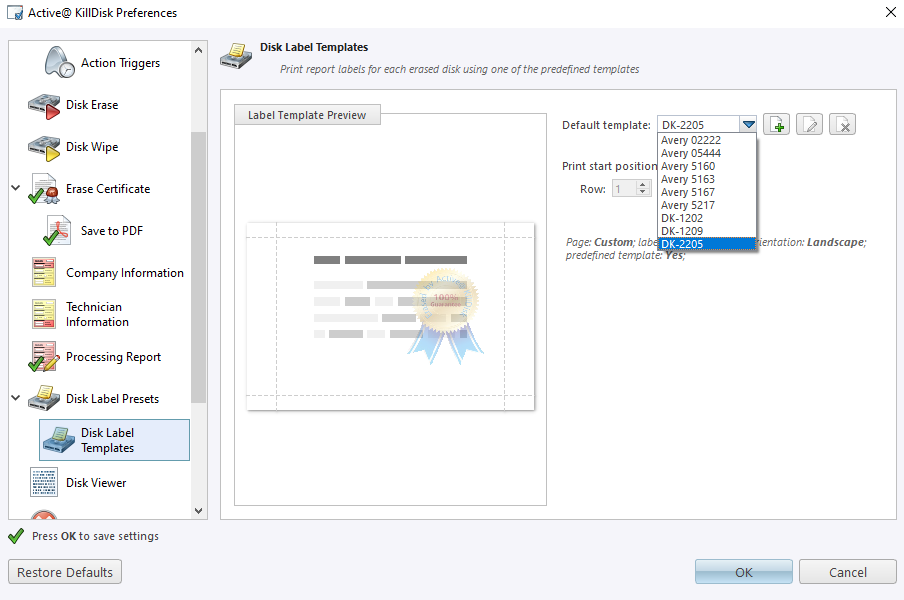 Eventually here is how a label for 5 erased drives can look like.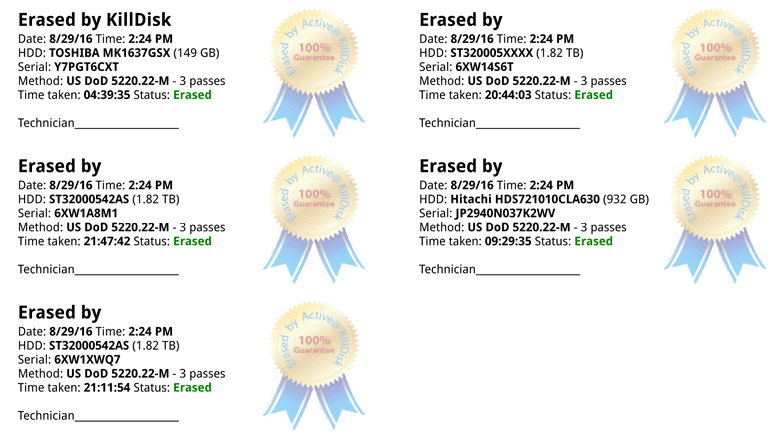 And here is how an erase certificate can look like after customization.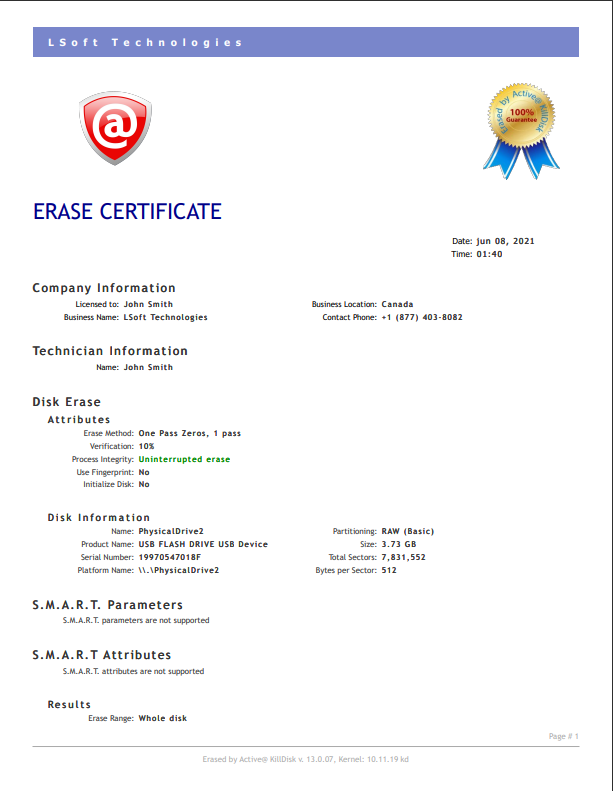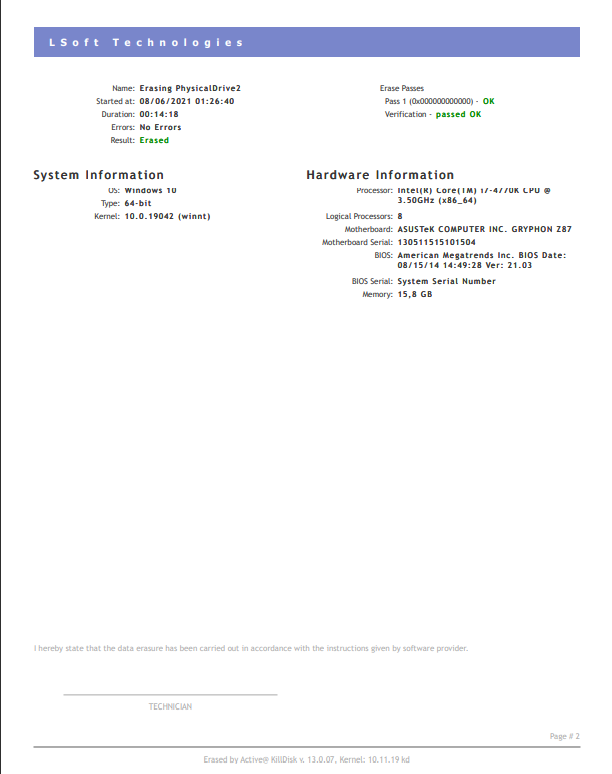 Here is how Active@ KillDisk certificates and labels can look in real life.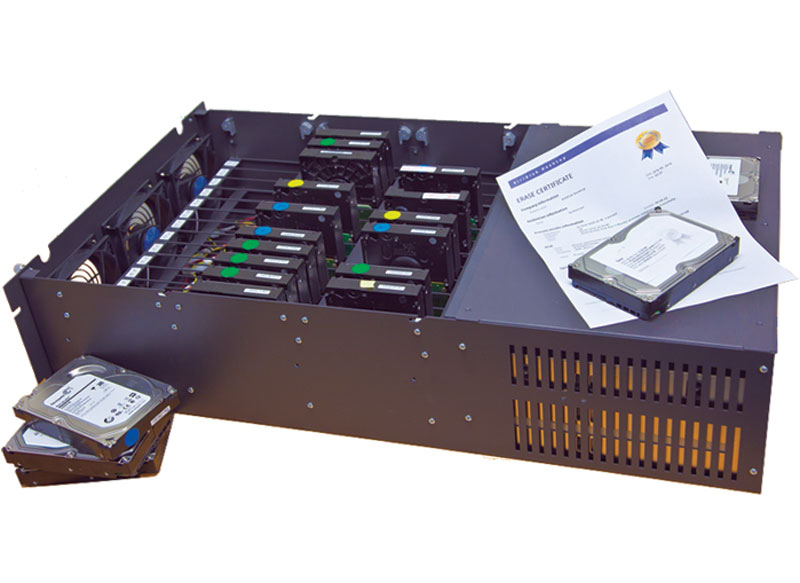 If there's a need to delete more drives you can also check our KillDisk Industrial and KillDisk Desktop.