Recover files with Active@ UNERASER
Active@ UNERASER is a comprehensive data recovery software developed by LSoft Technologies. It comes with a variety of features starting with basic File & Folder Recovery, to recovering volumes, partitions, and RAID. In this article, we will show how to recover a deleted file while using File Signature search options. When opening Active@ UNERASER straight off the bat you will be welcomed with an opening screen menu with Easy and Advanced Mode. Both of the modes are equally effective. Users who do not need advanced features can simply opt for the Easy mode.

Advanced Recovery Mode
In Advanced Mode the interface offers a plethora of options for data recovery. By clicking on the drive itself you can scan for partitions, volumes, and files using SuperScan or Last Chance if you want to pursue a more detailed search for the files in question.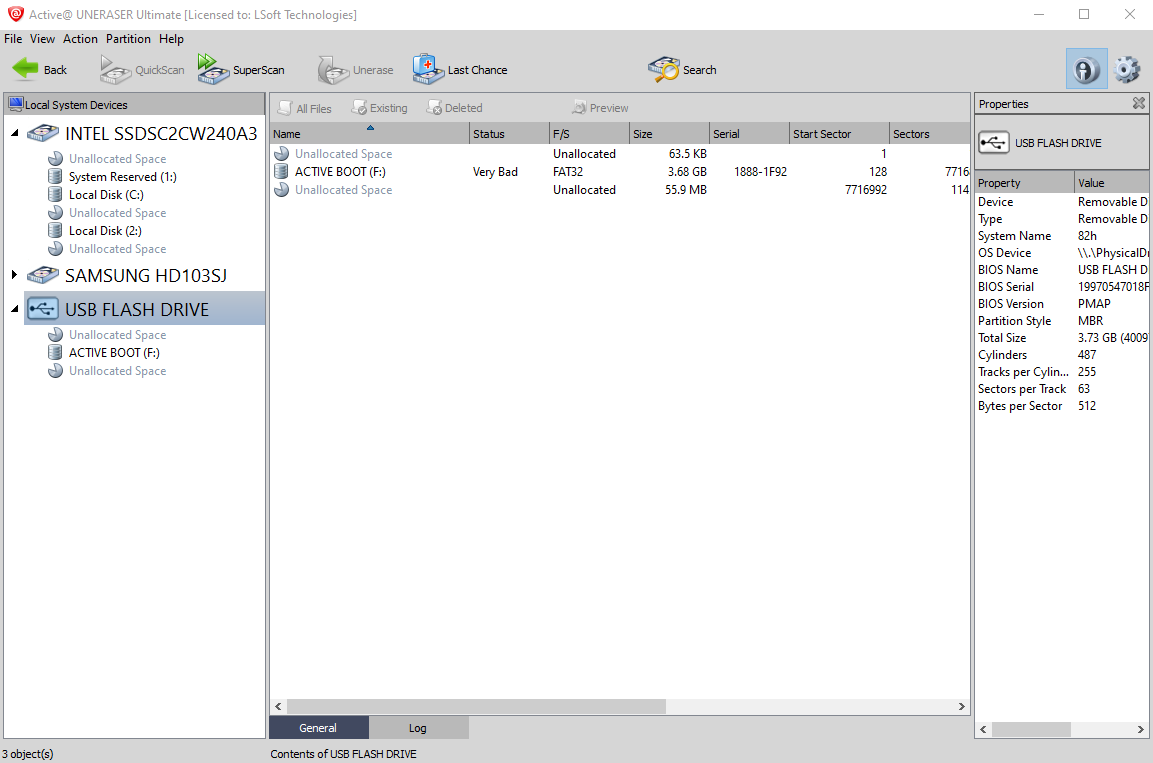 In SuperScan Options, you can search for the files by their signatures but also you can scan for the partitions of different operating systems. Additionally, you can load your custom-made signatures.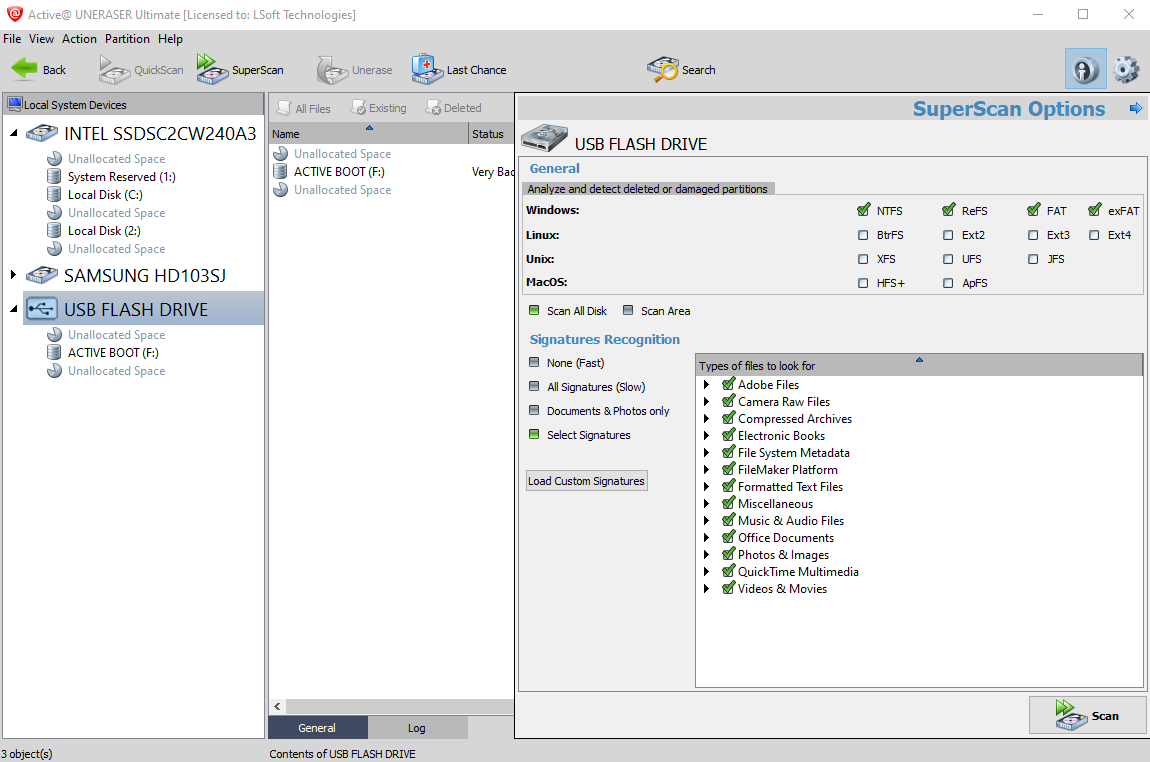 With SuperScan utilized, you can see in the left panel all the volumes that have been previously stored on the scanned drive as well as their condition.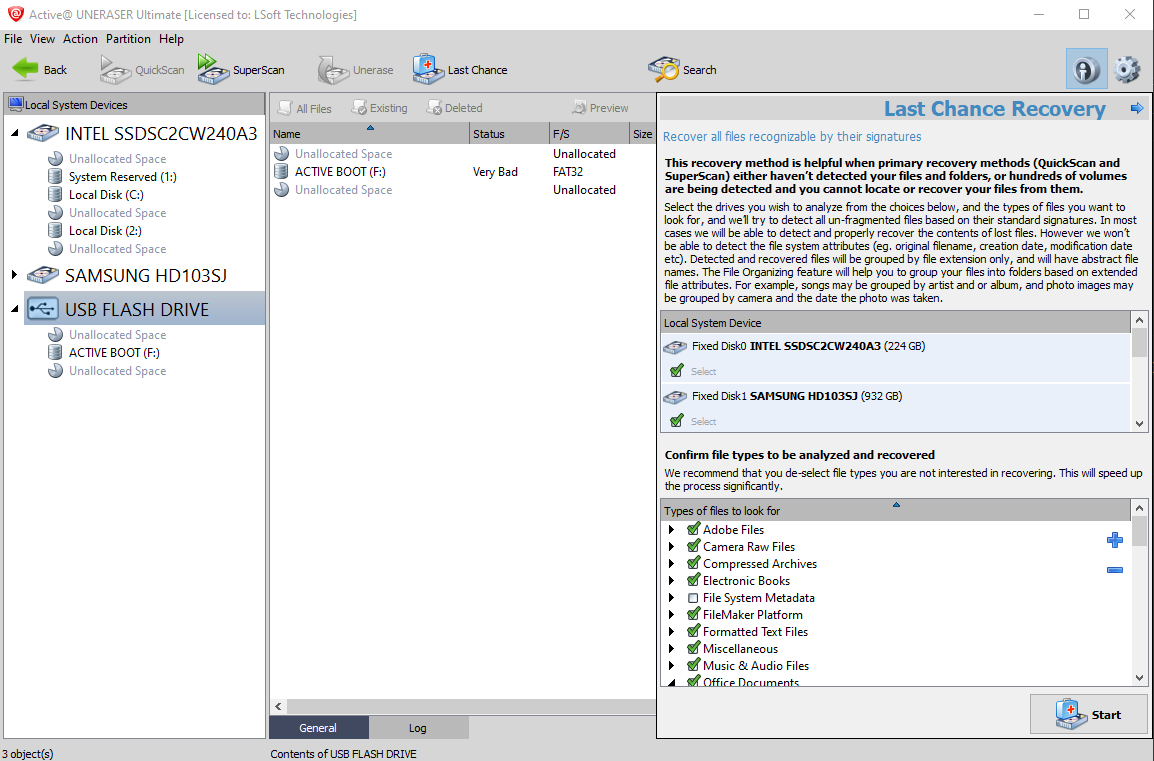 Last Chance Recovery, on the other hand, offers a highly detailed scan in case any of the previous methods to find the files in question have been unfruitful.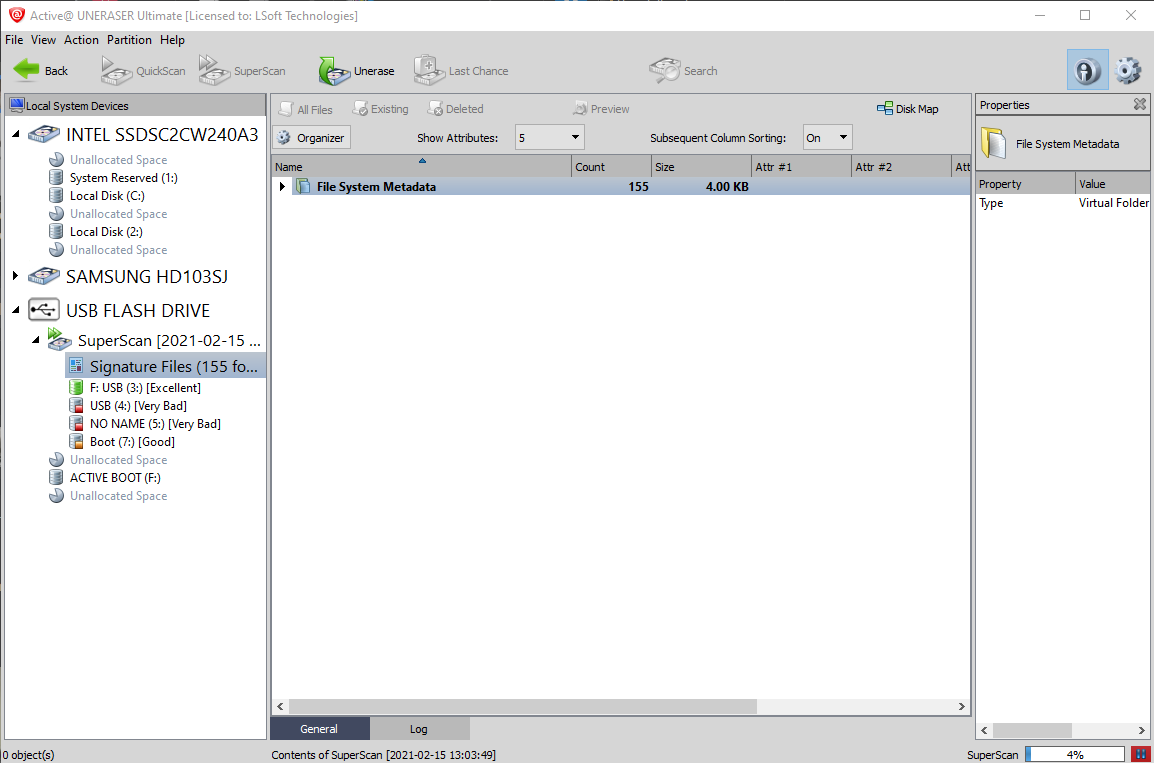 Easy Recovery Mode
Easy Recovery Mode offers easy to use interface enabling you to scan for files either by their type or file signature.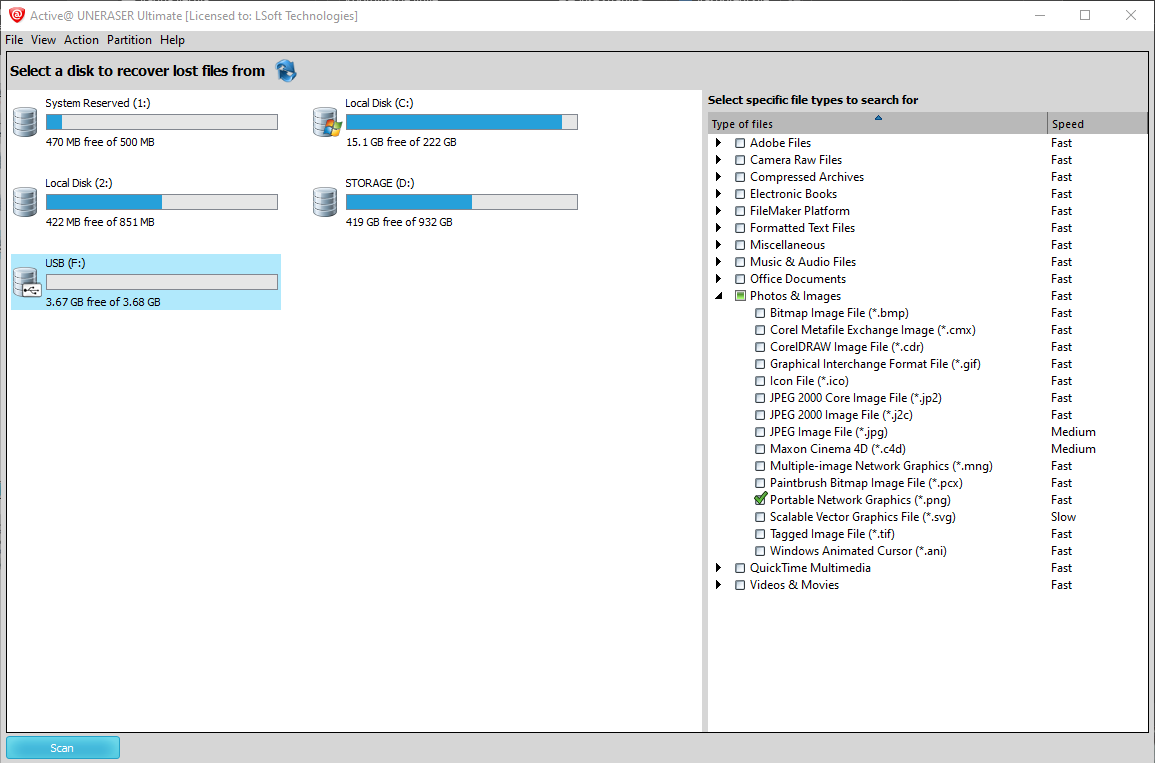 After setting up your preferred file types and signatures, just press the Scan button in the bottom left corner, and soon enough Active@ UNERASER will find your missing files.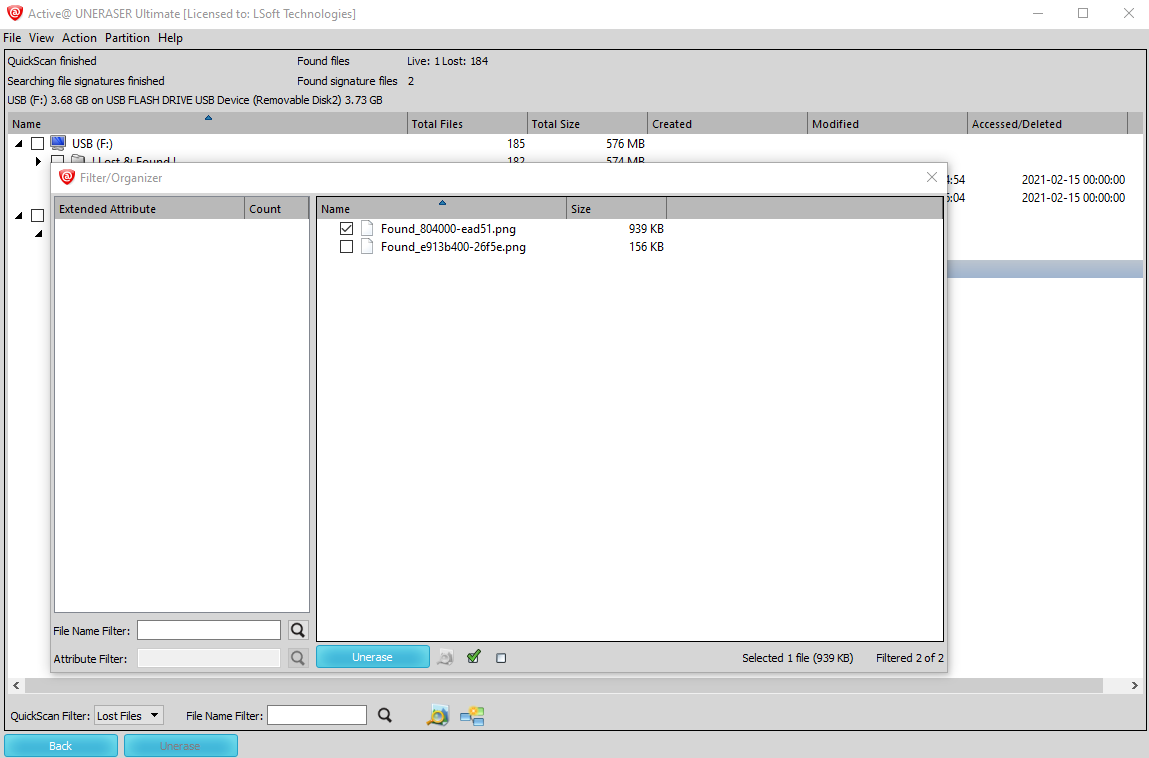 As with other data recovery software from LSoft Active@ UNERASER has a Preview function where you can preview your files before recovering them, in case you do not want to recover the wrong ones. Clicking on Unerase will recover the files to your desired location. It is advisable to recover always recover your deleted files on another disk just in case something gets wrong with the recovery process.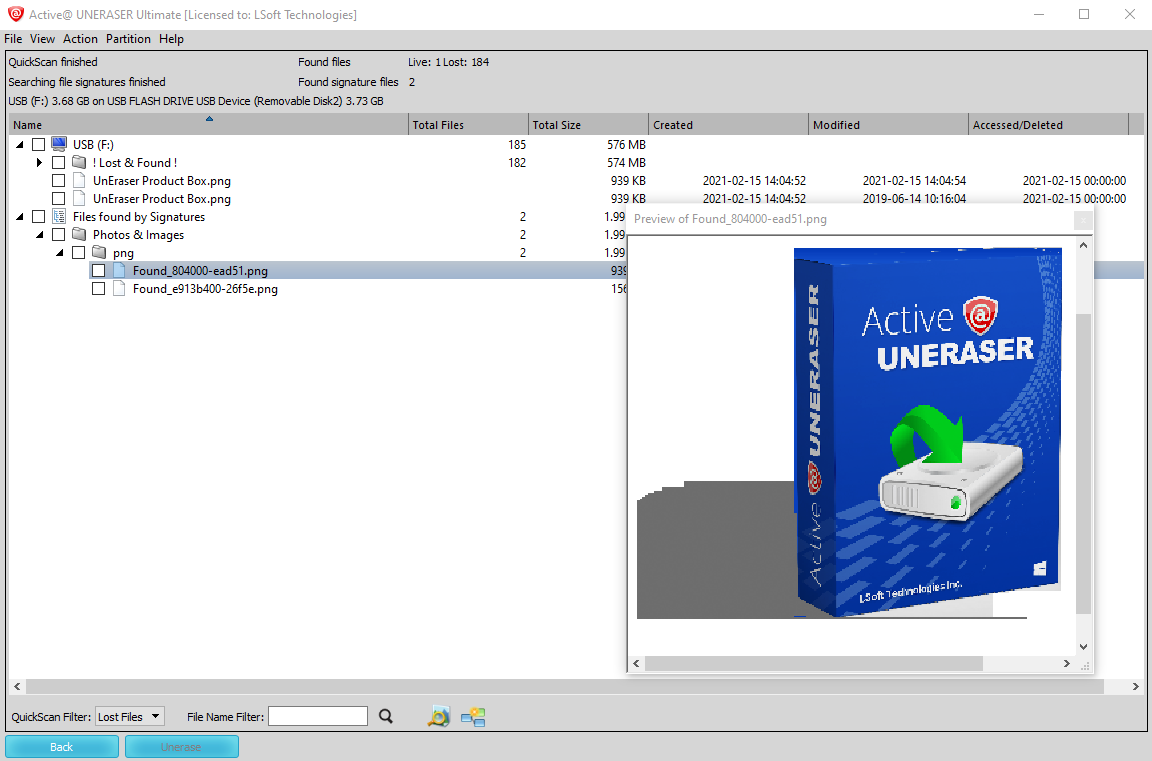 Active@ UNERASER comes in two variants: Professional and Ultimate.
Professional version scans for deleted partitions files and folders and a preview function. It supports all file formats (Windows, Linux, Apple, etc). It comes with a customized Active@ Boot Disk (based on WinPE 5.1) for accessing the files outside the resident operating system.
The Ultimate version has all the features that the Professional version has, but it also includes RAID recovery as well as Active@ LiveCD, a customized boot disk based on openSUSE.